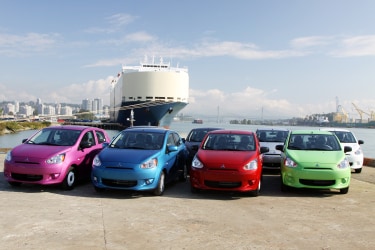 The all-new 2014 Mitsubishi Mirage 5-door sub-compact not only marks the return of the company's lovable and popular small vehicle offering but does so as the most fuel-efficient non-hybrid gasoline-powered vehicle available in America.
With a starting MSRP of only $12,995, the all-new 2014 Mirage rises to the top of its competitive segment delivering exceptional fuel efficiency delivering up to a phenomenal 44 mpg with an EPA-rated fuel economy of 40 mpg combined/37 mpg city/44 mpg highway on models equipped with the continuously-variable transmission (CVT) and 37 mpg combined/34 mpg city/42 mpg highway on 5-speed manual transmission-equipped models.
Along with its remarkable affordability and fuel efficiency, the new Mirage boasts an extraordinary level of features and accessories in its standard equipment package.
All-New 2014 Mitsubishi Mirage Standard Features (DE trim level):
Seven (7) air bag Supplemental Restraint System (SRS) including driver's knee air bag
Automatic climate control
Upscale-looking rich high-gloss piano black center console
Active Stability Control (ASC) with Traction Control Logic (TCL)
Sporty rear spoiler
Electric Power Steering (EPS)
Mitsubishi Motors' patented Reinforced Impact Safety Evolution (RISE) chassis safety cell technology
Hill Start Assist (CVT-equipped models)
ECO indicator light
Power side mirrors
4 speaker 140-watt AM/FM/CD/MP3 audio system with USB/iPod© input
Power windows with driver's side auto-up/down
Convenient 60/40 split-fold rear seat
Keyless entry with panic alarm
Rear seat heater ducts
4-wheel ABS brakes with Electronic Brake-force Distribution (EBD) and Brake Assist
Tire Pressure Monitoring System (TPMS)
Choice of eight (8) different vibrant exterior paint colors
Exceptional Mitsubishi Motors New Vehicle Warranty
What's more, at a cost of only $1,200 more, the ES trim level of the all-new 2014 Mitsubishi adds numerous thoughtful and high-end features that are usually reserved for vehicles in a much higher priced segment. These include:
FAST-key passive entry
One-Touch Start/Stop (OSS) engine switch
Leather-wrapped steering wheel and shift knob
Steering wheel-mounted audio and cruise controls
Bluetooth© hands-free phone system
14-in. aluminum alloy wheels
Front fog lights
Upgrade seat fabric
Silver interior accents
Seat height adjustor
An available SD navigation system with rear camera monitor
Styling: Fun yet Efficient
Don't let its friendly face fool you - there's a great deal of substance behind the exterior styling of the all-new 2014 Mitsubishi Mirage.
Mitsubishi's new 5-door model achieves a remarkably low coefficient of drag at a mere 0.28. This miraculously clean design was achieved by a combination of numerous key features incorporated into the vehicle's exterior. These include a minimized grille opening, a tidy yet elegant patented teardrop-shaped roofline, sculpted crease lines along the corners of the bumper, underbody tray covers and a sharp-looking high-mounted rear spoiler "wing" that very effectively help to reduce drag. Additionally, the entry-level DE trim level of the Mirage includes an aerodynamically-shaped full wheel cover that helps further reduce drag and turbulence.
With its precision engineered high-tensile steel-fortified body/chassis providing reduced mass with excellent rigidity, Mitsubishi Motors' newest model achieves a very low overall weight of only 1,973 lbs., giving this sturdy yet highly-maneuverable featherweight a better power-to-weight ratio than its main rival.
Aesthetically appealing exterior design elements, including sharply raked headlights, forward sloping beltline and a muscularly taught rear hatchback design, give the new Mirage its thoroughly modern look.
Inside is a comfortable, ergonomically-enhanced cabin that is very spacious considering the vehicle's exterior size and features extensive use of soft-touch high-grade surface materials along with an eye-catching centerpiece - a center console covered with a rich-looking high-gloss piano black inlay trim.
Even the HVAC system has been designed to offer reduced weight, improved heater performance and heated airflow to accommodate the rear seat passengers, along with the implementation of a new pollen filter to improve interior air quality.
Other thoughtful interior touches include several handy storage compartments/trays and large cup holders, 60/40 split-fold rear seats, an included cover for the rear cargo area, and a surprisingly generous 17.2 cubic feet of rear cargo volume.
Simple yet cleanly styled, the interior of the all-new Mirage is a pleasant and relaxing environment for both the driver as well as all of the vehicle's occupants.
Fuel-Sipping MIVEC-Equipped Engine & Transmissions
Mated to either a precision-shifting 5-speed manual or a highly efficient continuously-variable transmission (CVT), the economical yet capable 3-cylinder 1.2-liter engine (designated 3A92) is a model of efficiency and refinement.
With its lightweight aluminum engine block, the latest edition of Mitsubishi Innovative Valve timing Electronic Control (MIVEC) system variable valve-timing system and a high compression ratio of 10.5:1, this economical powerplant produces 74 bhp at 6000 rpm and a full 74 lb.-ft. of torque at 4000 rpm - all while tipping the scales at less than 170 lbs. The engine's bore and stroke measure 3.0 in. (75 mm) x 3.5 in. (90 mm), respectively.
Additional efficiency has been designed into the engine by reducing the friction and mass of numerous key components including the lightweight hollow camshaft and pistons as well as resin-coated low friction bearings, low-friction piston rings, improved surface smoothness of the valve stems and camshaft journals, along with the addition of an output optimized engine oil pump that circulates lower viscosity engine oil (0W-20 grade).
To further improve the driving experience for the vehicle's occupants, the Mirage's engine is cradled within an inertial axis 3-point engine mounting system. This design includes a lightweight yet extremely rigid high-tensile steel bracket where the engine meets the transmission, a mounting point that uses a hydraulic-type insulator, with the third support a strong yet lightweight aluminum bracket.
Consumers opting for the continuously-variable transmission (CVT) will experience refined driving characteristics beyond those delivered by an ordinary automatic transmission. Unlike a conventional automatic transmission, there is no jolt or abruptness when shifting gears; every time the accelerator is applied, there is pleasantly smooth acceleration. Moreover, the CVT features Mitsubishi Motors' excellent INVECS III technology that automatically selects the optimal gear ratio based on road and driving conditions for a more polished ride quality.
Furthermore, the engagement of the torque converter (shift map) on CVT-equipped models has been redesigned for improved fuel efficiency, drivability, and better overall vehicle acceleration. Another improvement came by adding Idle Neutral Logic. Based on the system designed for the all-new 2014 Outlander, the Idle Neutral Logic on the Mirage reduces friction loss of the CVT by more precisely controlling the clutch when the vehicle is at standstill while in "D" (drive).
Other important contributors that further enhance overall engine efficiency include the Electric Power Steering (EPS), high-efficiency alternator and high-ignitionability spark plugs.
Suspension and chassis: Performance & Refinement Beyond the Sub-Compact Segment
With a sharp turning radius of 15.1 feet combined with a length of just 148.8 inches, parking in the city suddenly isn't such a hassle after all. Additionally, the spring rates and damping forces have been optimized for an excellent blend of performance and comfort, while a front stabilizer bar has been fitted to reduce body roll as well as ensure high-speed stability. What's more, the entire suspension system has been designed for maximum strength with reduced overall weight to help improve fuel efficiency.
Another contributor to improving fuel economy is the Electric Power Steering (EPS) system that offers excellent feedback to the driver and easy steering effort in tight/low-speed turns - a very welcome design feature in city driving as well as navigating tight parking spaces.
With its capable 13-in. ventilated front disc and 7-in. rear lightweight drum brakes, the all-new 2014 Mirage demonstrates excellent breaking control with stopping distance performance among the very best in its class.
And thanks to the use of high-tensile steel, the body of the new Mirage is characterized by excellent strength and structural rigidity - all while being the lightest body in its class.
Environmentally-Friendy Design
In addition to its highly fuel-efficient engine, the all-new Mitsubishi Mirage has been designed to have a lower environmental impact in the manufacturing process by utilizing recycled materials, vehicle parts that can be easily recycled, and by greatly reducing the use of hazardous materials.
Use of Recycled Materials
The new Mirage's bumper, instrument panel and door trim are manufactured from discarded plastic packaging/shipping remnants found at the Mitsubishi Motors manufacturing facility. Additionally, the sound insulating material used inside the dashboard panel is recycled from discarded materials from non-automotive related industries outside of Mitsubishi Motors.
Easily Recycled Materials
By making use of a special thermoplastic resin, the bumper, instrument panel and door trim plastics found in the new Mirage can be easily recycled.
Reduction of Hazardous Substances
Numerous automotive parts that were commonly composed of lead in the past are now constructed using lead-free materials. These include the wheel balance weights (iron), wiring harnesses (barium, magnesium/zinc), glass and/or ceramic coatings (additives now use bismuth and zinc) and lead-free anti-corrosion coating.
Comprehensive Mitsubishi Motors New Vehicle Warranty
Automotive consumers can rest easy thanks to the impressive warranty included with every all-new 2014 Mitsubishi Mirage sold in America - one of the best warranties in the industry.
10-year/100,000-mile powertrain limited warranty
5-year/60,000-mile bumper-to-bumper new vehicle limited warranty
7-year/100,000-mile anti-corrosion/perforation limited warranty
5-year/unlimited mileage roadside assistance program
Advanced No-Cost Safety Features
Every new 5-door Mirage sub-compact is equipped with a wide array of technologically advanced safety features that help to protect the vehicle's occupants as well as improve the car's handling, stability, and traction.
Among the high-tech standard features are an advanced supplemental restraint system (SRS) consisting of seven (7) air bags - advanced dual-stage front air bags; side-impact curtain air bags; front seat thorax side air bags and a driver's side knee air bag. All 2014 Mitsubishi Mirage models also include a Tire Pressure Monitoring System (TPMS); anti-lock brakes (ABS) with Electronic Brake-force Distribution (EBD); Active Stability Control (ASC) and Traction Control Logic (TCL).
Pedestrians are also afforded a high degree of protection, thanks to deformable sections for both the front fenders as well as the cowl section where the hood and windshield meet.
A key engineering safety feature incorporated into the design of the new Mirage is Mitsubishi's Reinforced Impact Safety Evolution (RISE) technology. This patented body construction system combines state-of-the-art engineering and high-tensile steel to provide additional protection to the vehicle's occupants by dissipating and/or absorbing energy in the event of a collision.
Another welcome safety technology is a brake override system. Should the brake and accelerator pedals be applied simultaneously while the vehicle is moving, the engine ECU will override the accelerator's input and give priority to the brakes - a fail-safe function that greatly reduces the risk of an unintended acceleration.